When good employees are hard to find, don't forget to recruit women
Few 11-year-old girls write a list of their life goals and even fewer list their top goal as working in the family pest control business. In fact, Stacy O'Reilly, owner of Plunkett's Pest Control, may be the only 11-year-old girl to have set her sights on running a pest control business.
As she aged, she realized that to make sure she could add value to the 100-plus-year-old business, she wanted to get an education and other experience that would help her continue the success of the previous two generations.
"I wanted to enter the company when it and my parents needed me, so I got a business degree, then a master's in business administration, and then worked at different companies, including five years at McKinsey & Company as a business consultant to Fortune 500 companies," explains O'Reilly. "When my parents were preparing to retire, I joined Plunkett's—working as a field technician for one year, then as a field supervisor for one year."
Her experience prior to joining the family business and her experience as a technician and supervisor were important, points out O'Reilly. "I was confident that I could handle the business side of the company, but my time as a technician helped me build more skills and confidence that I understood this specific business," she says. "As the owner's child, you always want to prove your worth based on the merits, not the inheritance. It helped build my confidence even when nobody else noticed."
Family-owned businesses in the pest control industry are common, which means that as they pass from generation to generation, women have the opportunity to work in, own and lead the companies. When Judy Dold, chairman of the board for Rose Pest Solutions, first got to know the industry, it was as a spouse attending National Pest Management Association conferences with her husband, who was actively involved in the industry. "Once our children were older, I became involved in the business," she explains. "I became certified 33 years ago in multiple areas as my first step, then joined the company as a manager of one of our smaller branches."
At the time, there were few women in management positions—or in the industry as a whole—so Dold often found herself as the only woman in meetings or educational and business sessions at conferences. "It was an interesting time for women but I did not let the fact that I was often the only woman in the room stop me from asking questions because I was there to learn," she says. "Even after conferences I did not hesitate to reach out and ask someone who was more senior in the industry for advice or information." It is a testament to the type of people in the industry that "everyone was gracious and willing to help," she adds.
Dold's involvement in the industry has extended beyond Rose Pest Solutions as she has been active in NPMA throughout the past three decades. Serving as president in 2001, she was the second woman to hold the office. Her experience led her to become the driving force behind NPMA's mentoring program that has helped pest control professionals—women and men—for 25 years.
"I don't think of my accomplishments in terms of being a woman. Instead, I am proud that I was elected president of NPMA or have held positions in the company because I was the most qualified person," says Dold. Although she says that there is still implicit bias against women in many industries, her advice to her four daughters as well as other women is to "be aware of the bias but not take it personally or let it hold you back from the goals you want to achieve."
Dold encourages women to pursue leadership positions in industry associations like NPMA because those opportunities open doors to new experiences, skills and friendships. "For me, those opportunities led to international experiences and friendships that I treasure today," she adds.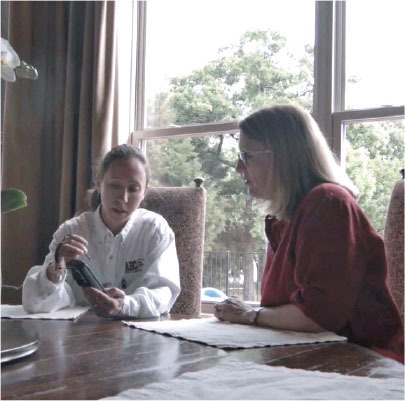 Presenting the pest control industry as a career rather than a job is the greatest challenge when recruiting women or men, says Laura Robinson, recruiting director for ABC Home & Commercial Services. "I can't imagine working in another industry because I worked in the pest management business my husband and I owned before moving to Texas and joined ABC Home and Commercial Service six years ago in human resources," she says. "The biggest challenge to recruiting women to our company is that the work can be physically demanding and dirty."
Robinson has found success in recruiting women with military or construction backgrounds because they have already demonstrated an interest in work that has similar requirements. "NPMA's PestVets group has been very helpful to finding military veterans to work with us," she says.
Although it is difficult to develop a strategy that targets only women when a company is trying to recruit the best-qualified individuals of all genders, it is important to be sure that websites, social media and marketing materials include images of women who work at the company. "I am in human resources, which is typically more female, but our company produced a short video featuring two of our women technicians talking about why they enjoy their jobs," says Robinson. Putting the video on YouTube and linking to it from other social media sites shows why women who enjoy working with people, working outside and not sitting behind a desk choose pest control, she adds.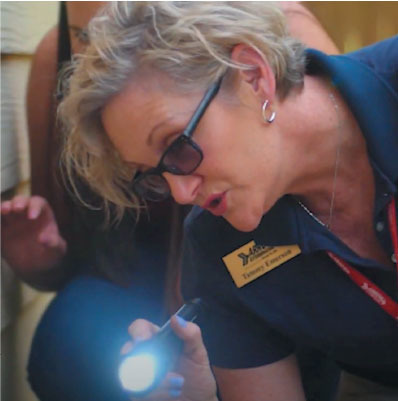 Customers, especially residential customers, are pleasantly surprised to answer the door and see a female pest control technician, says Robinson. "About 70% of our residential customers are women so there is an immediate level of comfort and trust when they interact with another woman," she says.
"My favorite thing to do is to go back to people I've hired six months or a year later and ask how they are doing," says Robinson. "There are several women who might have been unsure if they would like the position when they were hired that later tell me they love it."
One person who loves her job is Emily Thomas Kendrick. She joined her family business, Arrow Exterminators, 22 years ago following graduation from college. After working in a variety of offices in operations, her career path focused more on the support side of the business—IT, marketing, sales and customer service. Because she was only 28 when her father named her chief operating office and 33 when she was named president, Kendrick says that her challenges have been less about being a woman and more about her age. While many people just noticed her age and gender at first, Kendrick says, "I knew that I could do this job and do it well because of my experience and skills."
Kendrick's advice to women who want to pursue a career in pest management—at any age—is twofold:
"Know your strengths and weaknesses and act accordingly. For me that meant it was imperative for me to focus the majority of my time on the things at which I was best and to recruit a rock star team for everything else," she says. "I try very hard to stay in my lane and let these crazy smart, awesome folks I hired do their jobs."
"The second thing is the single best piece of advice I've ever been given in my life: Emily, you do you. Be your authentic self," Kendrick says. "Don't try and be something you're not; don't try and be your dad or your grandparents or whatever."
When asked what advice she gives other employers in the pest control industry, Kendrick says, "At Arrow, we are always looking for great people to join our team. We know that having women in all facets of our organization has proven to be very beneficial to us." She adds, "Female team members can provide insight to our customers and those making buying decisions for their households; they can provide detailed work, can multi-task and can be extremely creative."
WORK-LIFE BALANCE IN COVID TIMES
Although many employers were hesitant about sending traditionally office-based staff home to work remotely, most happily reported higher productivity, greater efficiency and more satisfied team members. However, as the pandemic and associated changes in the workplace have continued—along with supervising students who may be learning remotely and caring for older family members who must stay close to or in their homes—the challenge to balance work and life has grown for all people, especially women.
A few ways that women have found to strike a balance when you never leave the office (because it's in your home) include:
Find "office space" away from others in the house—don't sit at the kitchen table where you'll be constantly interrupted.
Set your start and end schedule and stick to it—for example, no meetings before 9 a.m. because that's when you connect with children or spouse, or when you prepare for your day.
Plan breaks—lunch, short period of exercise or a walk around the block give you a chance to re-energize.
Schedule self-care such as manicures, visits to hair stylists or massages.
Connect with friends on a regular basis via phone or videoconference for a "coffee date" or "happy hour."
Involve everyone in the household when planning so everyone's schedules will respect the others and prioritize time for what is important.
CONNECT WITH OTHER WOMEN IN PEST MANAGEMENT
The Professional Women in Pest Management, an affiliate group of NPMA, hosts professional development and networking sessions at NPMA events, awards professional empowerment grants, and recognizes industry leaders as part of its mission to attract, develop and support women in the industry. For more information about the group, visit www.pwipm.org.
BY SHERYL JACKSON